Florida has a strong reputation for producing trophy largemouth bass, and there is one place near the top of everyone's list:
Lake Toho!
In this article, I am going to tell you everything you need to know about bass fishing on Lake Toho and planning the trip of a lifetime.
This page contains affiliate links. As an Amazon Associate, I earn from qualifying purchases.
Lake Toho Bass Fishing
Believe it or not, Lake Toho is home to the world record single-day five-bass limit ever caught in a professional tournament. The incredible bag weighed 45 lbs 2 ounces- WOW! That is an average weight of 9 pounds per bass- Incredible!
So, it goes without saying that Lake Toho has BIG bass, and a lot of them!
The lake is considered shallow, with a lot of emergent vegetation. If you have fished in Florida before, it will probably look familiar to you.
A heavily wooded shoreline for most of the lake, with plenty of covers such as hydrilla, cat-tails, pads, and Kissimmee grass.
Navigating the lake should not be a problem, just use caution around the shoreline edges, otherwise, the lake does not present any significant navigation challenges.
Bass Fishing Tactics
Major Tournaments have been held on West Lake Toho for decades, and professional anglers have scoured the lake trying a wide variety of tactics.
Consider the time of year your planning a trip and be ready to experiment with a few different techniques.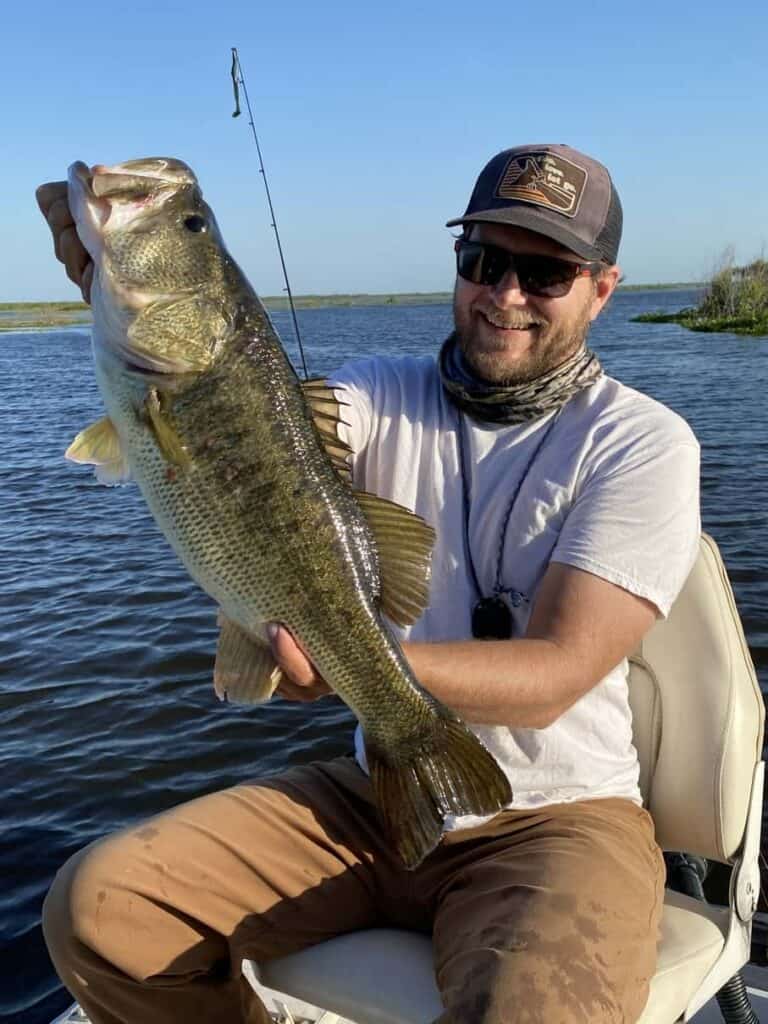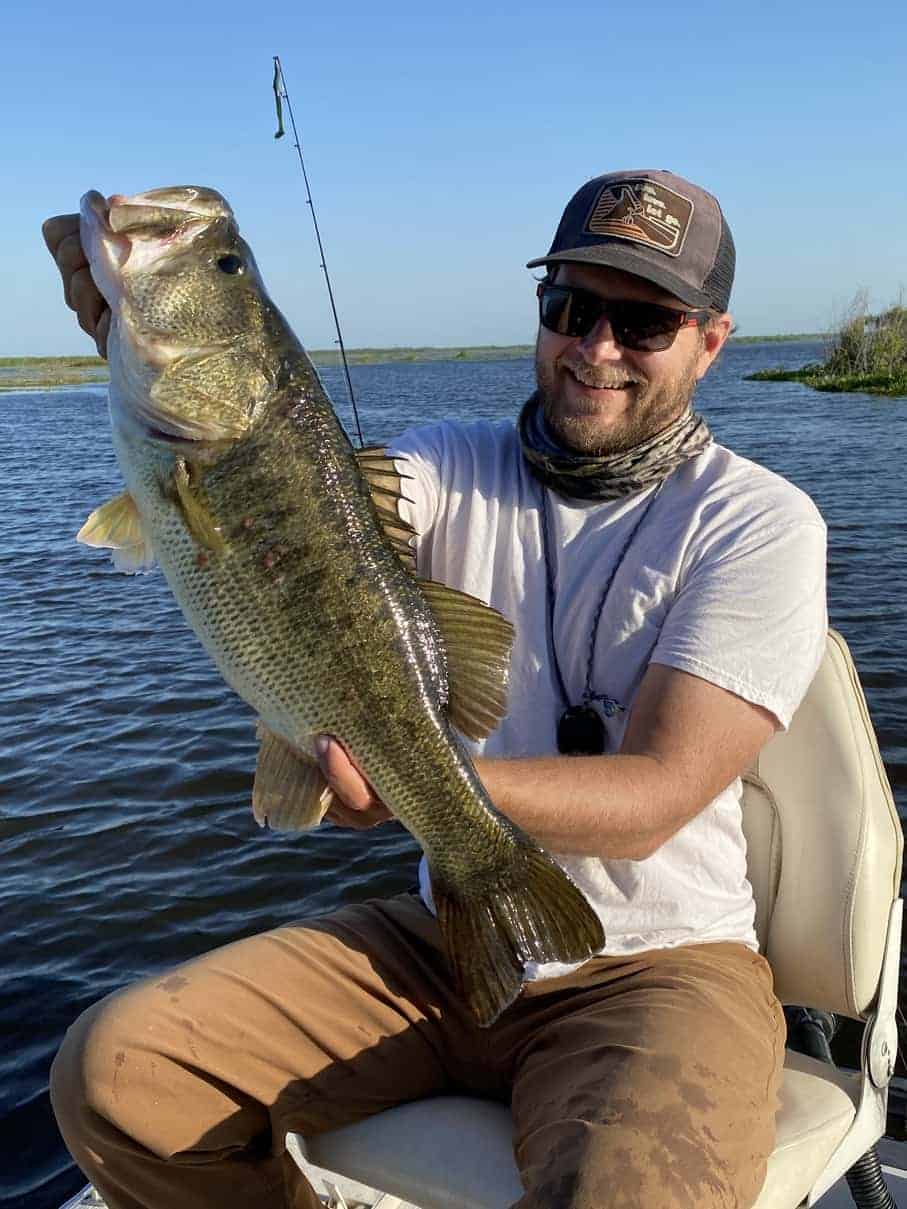 I will say, this is Florida Bass fishing, and our bass LOVE cover. If it's green, thick, bushy, brushy, structure- cast on it! The bass in florida will seek shade to hide from the bright sun.
One of the reasons Lake Toho is so popular is because you can fish so many different styles here. You can sight fish, flip, pitch, punch, topwater fish, and deep water crank.
Big bass are caught in 10 inches of water along shorelines, or out in open water schooling bait.
Check out this MLF Article about the methods the Pro's used to fish Lake Toho.
Lake Toho Bass Lures
Here are my top picks for Bass Fishing Lures on Lake Toho:
Best Time to Fish Lake Toho
Although there is something to be caught year-round when fishing in Florida, the time of year can impact how long you fish (weather) and your chances of success.
Take a look at the Fishing Lake Toho Fishing Calendar:
Other Lake Toho Fish Species
The bass fishing on Lake Toho is excellent, but don't overlook the many other fantastic freshwater fishing opportunities. During the late winter and early spring, black crappie fishing is very popular.
During the summer, consider doing a combo trip fishing for largemouth bass during the early morning then anchoring up and fishing bluegill or redear sunfish beds while you relax for lunch.
Heck, you can even Alligator hunt on lake Toho, as well as bowfish for exotic species such as Tilapia!
There are also airboat tours, wildlife photography, and birdwatching opportunities on Lake Toho.
See Also: The Complete Guide To Speck Fishing In Florida
Lake Toho Fishing Guides
There are no shortage of qualified and experienced guides to choose from on Lake Toho.
And make no mistake about it, fishing with an experienced guide can really improve your chances of catching a trophy bass or just having a great time on the lake.
The folks at bassonline.com have world-class charter captains and guides available and at very affordable rates.
Lake Toho Fishing Spots
The truth is, nearly all of Lake Toho has the correct habitat to hold largemouth bass. Some of the most popular starting areas are those around Whaley's Landing, Brown's Point, and Goblet Cove.
Consider throwing a topwater lure early in the morning, and switching to a slower presentation (texas rigged worm) as the sun comes up.
Other popular areas on Lake Toho are Lanier Point, Browns Point, and the shorelines around Big Grassy Island. Many people tend to get on the leeward side of the island out of the wind, but I prefer to actually fish the wayward side.
A strong south wind for example will push bait along the shallow shoreline and can be fantastic during the fall season when bass. are feeding heavily.
Many anglers will simply use their trolling motor to navigate within casting distance of the shoreline vegetation line.
This method allows you to slowly cover ground, pitching, and casting while keeping your eye out for potential sight fishing opportunities.
See Also: How To Find Fishing Spots: 9 Proven Methods
About Lake Toho
Lake Toho, short for Tohopekaliga is a 22,700 acre lake located in Osceola, county Florida.
The name 'Lake Toho' usually refers to 'West' Lake Tohopekaliga. Similarly, there is 'East Lake Toho', which is an adjacent lake nearby.
Most of the trophy bass fishing, tournaments, and bass fishing focus is on West Lake Toho, however, both lakes are very popular and produce great fishing.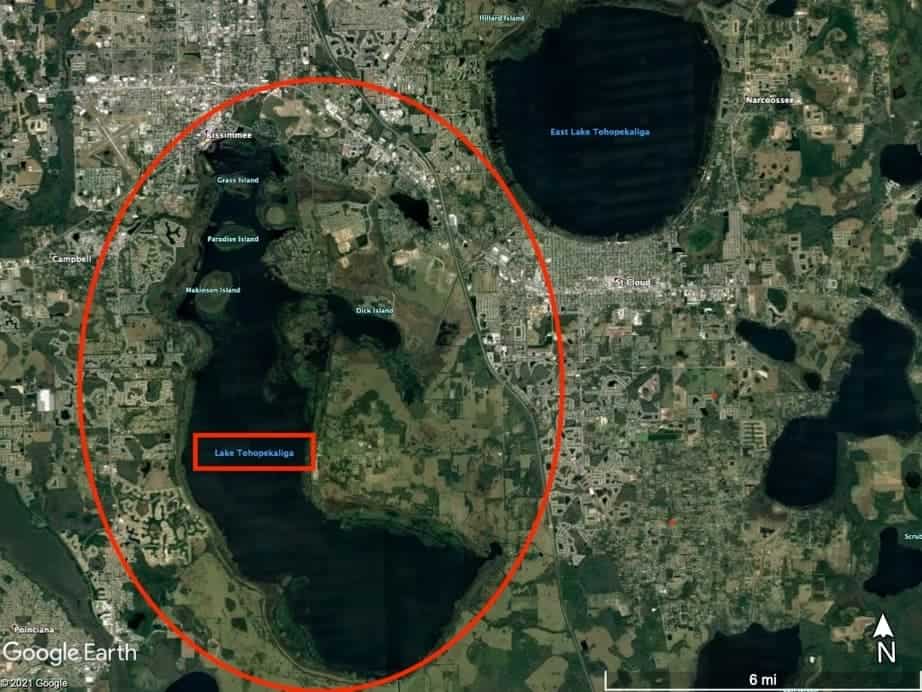 Lake Toho Boat Ramps
Multiple boat ramps are found on Lake Toho, which makes this lake easily accessible from almost anywhere.
Lake Toho Marina
Big Toho Marina is the main marina found on Lake Toho. It is conveniently located at the north end of the lake, just minutes from downtown Kissimmee (with plenty of options for lodging and food).
The Marina has everything you'll need for a fun day of fishing, including live bait and tackle…but it's entirely possible to catch your own wild shiners or minnows right on the lake!
Frequently Asked Questions
Are there alligators in Lake Tohopekaliga?
Yes, Lake Tohopekaliga definitely has alligators and lots of them. But don't worry, they usually keep their distance and many companies offer airboat and wildlife tours if you're interested in getting up close and personal.
Can you swim in Lake Tohopekaliga?
There are no public swimming areas on Lake Tohopekaliga (West Lake Toho), however, it is legal to swim. Always wear your life jacket and keep an eye out for alligators.
What kind of fish are in Lake Tohopekaliga?
Lake Tohopekaliga is known for its phenomenal largemouth bass fishing, but other fish species present in the lake include Black Crappie, Bluegill, Redear Sunfish, Catfish, Gar, and Tilapia.
What Does Tohopekaliga Mean?
There is some dispute among historians on the meaning of Tohopekaliga. Some believe it means "site, or fort" others say it means "sleeping tiger". Check out this article from the Orlando Sentinel for more information.
Final Thoughts
Lake Toho really is a special lake. Set amongst ancient cypress trees, yet only a few miles from one of the largest theme park attractions in the world (Disney, Universal Studios, etc).
It consistently ranked as one of the top bass fishing destinations in the entire country, and tournament anglers have proven this to be true time and t time again.
If you're looking for a place to get in some world-class bass fishing, but still have plenty to do with the wife and kids, pay a visit to Lake Toho.
Consider hiring a guide if you really want to increase your chances of catching a trophy.
Thanks for reading and good luck!
You May Also Like: The Ultimate Guide To Peacock Bass Fishing In Florida
If you haven't guessed yet, I love fishing and everything about it!
To learn more about why I started Panfish Nation, visit the About page and follow along on Social Media: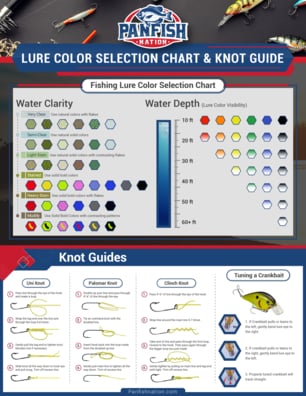 Download a copy of my FREE Lure Color Selection Chart & Knot Guide!
Stay up to date with fishing reports, tackle reviews, industry news, and much more! We respect your privacy, unsubscribe at any time.
Additional Reading