Many ice anglers pack up their gear and head home once the sun begins to set on the ice. However, night fishing on the ice, especially for Crappie can be very exciting and yield great results if you know what to look for.
Night Fishing for Crappie
Ice fishing for Crappie at night during the 'hard ice' months of January and February is a great way to target these tasty fish. Get your holes set up on the lake during daylight hours, and consider using a submersible light or glow-jigs to attract baitfish and trigger bites.
The best preparation for a night on the ice is to know and understand the lake you're fishing. Those same outcroppings that hold schools of crappie in the summer will be there after the ice forms. 
Submerged trees, rocky points near weed beds, channels, and other unusual structures attract and hold crappie. As a schooling species, when you find one crappie, you might just find hundreds of others nearby.
Having a general starting area will greatly increase your chances of being successful. Be sure to get out to the lake before sunset so you can get set up during daylight hours. If your fishing a new area, call around to local bait and tackle shops…you may be surprised at how helpful they are.
Ice Fishing Hole Patterns For Crappie
Once you've determined where you want to fish, you need to create a pattern for drilling holes.
Many anglers just walk in a straight line, drilling holes every 10 feet or so…that will work, but it's not the best use of your resources, and at night that far hole is difficult to monitor.
A better method with night ice fishing is to locate a probable spot on the ice above a known crappie area. Hopefully, there is one where you had success in the open water earlier in the season.  When you're over the structure, drill holes in a circular or star pattern with a radius less than 10 yards long from your central location.
This will keep each hole closer to your central location and make it much easier to monitor. Some anglers drill their holes on the edge of known feeding or staging areas.
For example, you may want to drill holes over the shallow weed beds, on the edge of the weed beds, and out in open water adjacent to weed beds.
Using Lights Ice Fishing For Crappie At Night
Surface Lights
Surface Lights are those that stay above the ice and illuminate the area you are fishing, either directly on the ice or under your shelter. These can be effective to attract baitfish and are absolutely necessary to see and operate safely while fishing.
Submersible Lights
Submersible Lights are waterproof and capable of being submerged under the ice to illuminate the water column below where you are fishing. These lights can be very effective because they attract zooplankton and microorganisms, which then attract smaller baitfish and eventually predatory fish such as Crappie, Walleye and Yellow Perch.
Typically these lights are plugged into a generator, or hooked up to a battery and lowered down into the water 10-30 feet below the surface.
Green is a very popular color, because the color green penetrates through the water column spectrum without spooking fish.
I highly recommend using a submersible light when ice fishing at night. They are easy to setup and you will be amazed at how much activity takes place around the light and the variety of fish it attracts.
Choosing The Right Crappie Baits
There are a couple of baits to use in the darkness that will bring in crappie regardless of how much light is available.
Live bait: Crappie love live minnows and if you can get your hands on them during the cold winter months, they are always a great choice. Use your flasher or fish finder and suspend the minnows about 1 foot above the staging crappie. Tip them on jigs, try a dropshot rig or use a #8 Aberdeen wire hook.
Other live bait choices include freshwater shrimp, wax worms, mealworms and nightcrawlers.
Artificial Bait: When fishing at night, use visible colored jigs like chartreuse, pink or neon yellow. Glow jigs are very popular because they can be charged with a flashlight and will glow underwater.
When it comes to choosing the right baits for crappie fishing at night, don't overthink it. Keep the bait size and profile as close as possible to the natural food crappie eat. Live bait can be very effective, but if it's not available artificial lures and scented jigs can be just as effective.
Ice Fishing For Crappie At Night Tips & Techniques
Set your tip-ups to the outside of your circle, bait some of them with minnows, some baited with wax-worms and jigs, etc. If all the action is on the minnow baited rods, switch entirely to minnows. If they're hitting on the wax-worms, switch to that bait.
They key here is to diversify your baits, locations and presentations until you find the fish!
For anglers who are not familiar with a lake, the white expanse of snow and ice doesn't give many clues to what is lurking underneath.  Technology can help!
Fishfinders work great in open water, they work equally as well through the ice.  Sophisticated models can pick up fish directly through the ice without drilling a hole, just set it on the ice, and take a few readings while walking around.
Other models such as flashers require a hole to be drilled first, then the fish finder is dropped through into the water.
Both of these will allow you to locate schools of fish.  The pattern and amount of fish on the screen will help you decide if they're crappie, bass, trout, or perch.  The more blips on the screen, the more fish and bait it's picking up.
Ice Fishing at Night Regulations & Precautions
Pay close attention to the regulations in your area regarding the number of holes drilled through the ice, the number of tip-ups, or rods you can have in the water at once, and the legal bait you can use. 
These regulations vary greatly from state to state, and even within the boundaries of a state they can be different in two lakes separated by just a few hundred yards.
The ice should be at least four inches thick before you can safely walk on it. Take proper precautions when pulling in sleds, or carrying tackle boxes and buckets of supplies onto the ice.
Warm spots are common on lakes. Step in one, fall through the ice and you're not going to have that awesome day catching crappie that you thought about all week. Always be safe, have a fishing plan and proper safety equipment on hand in case of emergencies.
Ice Fishing Sportsman Etiquette
Good sportsmen leave an area cleaner than they found it. Police your fishing spot carefully as you pack up your gear, and load your catch onto the sled for the trek home. Don't leave foam nightcrawler containers, empty bottles, and cans or food wrappers on the ice.
Ice Fishing for Crappie at night is fun, exciting, and a great way to target these tasty fish. Follow the basic guidelines I outlined in this article, experiment with your setup locations and you'll be catching fish in no time. Thanks for reading!
See Also: Ice Fishing Reel vs Regular Fishing Reel…What's The Difference?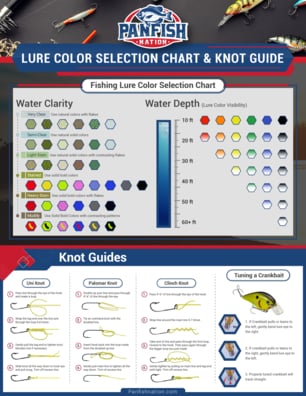 Download a copy of my FREE Lure Color Selection Chart & Knot Guide!
Stay up to date with fishing reports, tackle reviews, industry news, and much more! We respect your privacy, unsubscribe at any time.