Minnesota is nicknamed "The Land of 10,000 Lakes", but actually, there are over 14,000 lakes and bodies of inland water in the North Star state.
And that is good news for crappie anglers!
Here are 7 of the best crappie lakes in Minnesota.
#1 Sand Lake
This natural lake is located in Itasca County near Deer River and is part of the bowstring chain of lakes. Sand lake is rated as one of the best, if not the best, spots for crappie fishing in Minnesota.
This lake covers almost 4300 acres with an average depth of 50 feet, which is perfect for locating deep-water crappie during the summer and winter months!
Plenty of lodges and accommodations exist in the area, including the famous Lakewood Lodge.
Fishing Tips
Look for the bays for shallower water. The lake also has structures underwater to attract fish, so be on the lookout for those.
The different water temperatures in the different spots allow for fishing all year-round. Most anglers use a slip bobber to let the bait fall to the correct depth.
Sand Lake is also one of the best lakes in the entire state to go walleye fishing!
#2 Red Lake
This is one of the largest lakes in the state, covering 107,800 acres. Don't let that size put you off, however, as the best crappie fishing is often found in the larger lakes here. Red Lake is open all year round for fishing.
This lake is a popular ice fishing spot, and you can catch crappie while ice fishing. This lake is just loaded with crappie, as the crappie population expanded to fill in once the walleye population went down in the 1990s.
Even though the walleye are coming back, the lake is big enough for both species to thrive.
Fishing Tips
Look for the shallow parts of the lake, especially those with sand and mud bottoms. Early morning during feeding time is usually the best time for crappie, but fishing between midnight and 2 a.m. can also bring good results, especially since there won't be as many people on the lake.
#3 Cedar Lake
While there are several lakes in Minnesota with this name, the one in Martin County near Trimont is a great spot for crappie. Although the lake covers 700 acres, the maximum depth is only about 7 feet.
This lake is considered to be an excellent spot for crappie fishing in Minnesota, featuring both white and black crappie.
Due to the excellent cover vegetation for crappies to congregate, the population is quite high. The lake has a high numbers of fish that average 8-10 inches.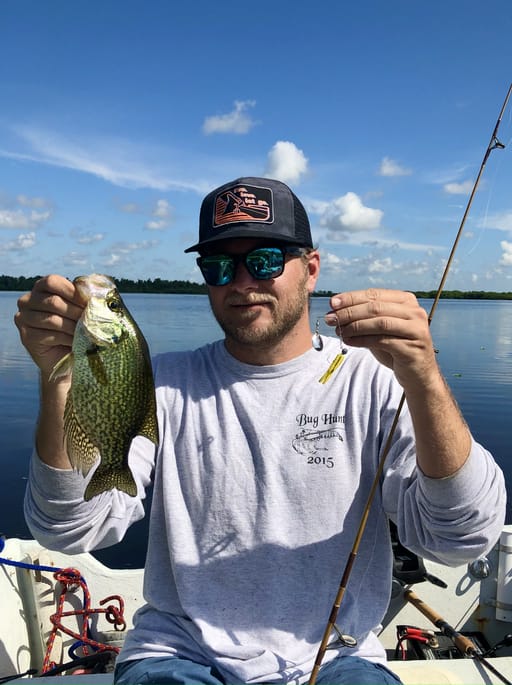 Fishing Tips
Fishing is best here during spring. Winter fishing is not as good, as oxygen levels in the lake sometimes get a bit low despite an aeration system being operated here.
Because of the shallow depth of the lake, spring anglers can use flies to entice hungry crappie from their spawning grounds.
#4 Rainy Lake
This is located on the US-Canadian border partly in Koochiching County. It's a narrow lake about 50 miles long.
While only about a third of the lake lies in the U.S., there's still plenty of fishing along the long shoreline and many islands.
What makes this lake unique is that several Indian reservations are located nearby. The locals provide plenty of boat rentals and guided fishing tours, so you shouldn't have any trouble getting your catch whether you are experienced or a novice.
Fishing Tips
This lake features over 500 islands. Crappie love to hang around the growth surrounding these, so pick a few and try your luck!
In addition, there are many indented parts along the shores for fishing if you prefer. Crappie anglers here favor live minnows.
Try light rods with a 2-6# line to help you feel the lighter bite of crappie. Remember that a crappie's mouth is torn easily (hence the name papermouth), so don't be too vigorous when setting the hook.
#5 Spider Lake
This lake is located in Itasca County in Foot Hills State Forest and covers 1392 acres. It features a four-mile-long shoreline.
About half of the lake is shallow, with the other half featuring depths 15-36 feet. The water is crystal clear up to 10-12-foot deep.
What makes this lake good for black crappie fishing in Minnesota are the many inlets and branches that give the lake its name. The abundant woods along the shoreline provide plenty of crappie hiding places.
Fishing Tips
Those inlets and branches are a great place to start your fishing here. Look for vegetation, especially sunken brush.
Crappie love to congregate in these places because they feel safer from predators. In addition, try the dark bottomed bays on the north side of the lake, especially during spawning season.
I recommend starting deeper at the mouth of the bays, and work your way shallow (inland) until you find where the fish are holding.
#6 Annie Battle Lake
This lake is located in Otter Tail County inside Glendalough State Park. It's open all year round for fishing.
While it covers only 354 acres, the depth goes up to 51 feet in places. It features a shoreline almost three miles long which is great for crappie fishing from the bank.
This lake is not as well known as some others, and the lack of crowds of fishermen makes for an abundant black crappie population.
The depth and plentiful vegetation cover also help. You should note that this lake does not have a boat ramp and no motors are allowed, but if you like fishing from a kayak or canoe, you own it to yourself to try this location.
Fishing Tips
Try fishing around the vegetation in early spring, especially during the dawn or dusk hours. That's when the fish are most active.
Once they reach spawning time, they are more likely to gravitate toward open bays with shallow grass. Locals swear by Berkley Powergrubs and plastic tube jigs.
#7 Cut Foot Sioux Lake
This lake is also located in Itasca County and covers 2768 acres. The depth goes to 78 feet in places, with clear water up to nine feet deep. This lake is known for walleye, so you may not have as much competition for crappie as you may find on other lakes.
Because of the depth of clear water and prodigious vegetation cover along the shoreline, crappie thrive here, along with plenty of other fish. The resort on the lake features a private boat ramp.
Fishing Tips
While small jigs and minnows are popular, many anglers like to troll hard plastic lures such as mini-crankbaits along weeds near the shore, moving them slowly to mimic prey.
Try to get in as close to the cover as possible.
Fishing during the low light periods such as dawn and dusk will get the best results. In summer, use your electronics to locate deep water schools of fish staging on a thermocline.
See Also: The Best Crappie Baits To Catch Slabs All Year Long
If you haven't guessed yet, I love fishing and everything about it!
To learn more about why I started Panfish Nation, visit the About page and follow along on Social Media: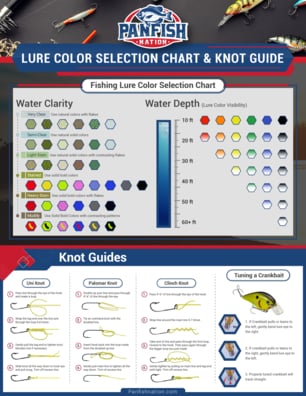 Download a copy of my FREE Lure Color Selection Chart & Knot Guide!
Stay up to date with fishing reports, tackle reviews, industry news, and much more! We respect your privacy, unsubscribe at any time.
Related Posts