The Buckeye state often gets overlooked when discussing top crappie fishing destinations, but make no mistake about it, Ohio has some excellent crappie fishing if you know where to go!
Below are the 7 best crappie lakes in Ohio.
1. Lake Erie
Why Is This Lake One Of The Best In The State For Crappie Fishing?
Lake Erie forms a good part of the Northern Border of Ohio. Erie is teeming with fish. Of all the fish in all five Great Lakes, half of them are in Lake Erie.
Because it's shallower than the other lakes, the water is warmer in comparison. The warmer water means a denser population of plankton, which in turn means more baitfish and more game fish.
While Lake Erie is most famous for its walleye and yellow perch, it's a great lake for crappie, with a huge population in the shallower waters of the Ohio Shore.
What's Unique About Lake Erie?
The most obvious thing is its size. Lake Erie is huge. Because it's huge, it has its own weather systems and can be very dangerous. If you intend to go very far out on the water and don't know the lake well, it's probably a good idea to hire a local guide.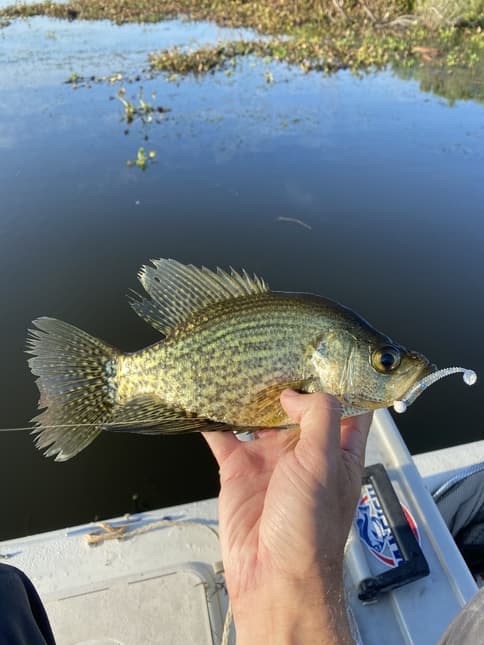 Another unique feature of Lake Erie is that there are a lot of local restaurants that are happy to cook your crappie for you after a long day of fishing! If you don't know where to go, your guide can point you to the best place.
Tips
Go to Sandusky Bay! Sandusky Bay is the reason that Lake Erie is Number One on this list.
Fishermen rarely agree on anything, but everyone agrees that Sandusky Bay is the best crappie fishing in Ohio, if not the entire northern United States.
It sits between Erie, Ottawa, and Sandusky Counties and is bounded on the west by the mouth of the Sandusky River and Muddy Bay and on the east by Cedar Point.
While crappie can be caught any time of year, the best crappie fishing is before they spawn in the spring, when crappie are unusually hungry and aggressive. This is when Sandusky Bay really shines.
It's relatively shallow, so it warms up more quickly than other parts of the lake. The bottom is broken up by channels and has the kind of vegetation that makes it the perfect crappie spawning ground.
Big crappie can be found here in the largest schools of anywhere in the state. On a good day, you can catch more big crappie in a single day in Sandusky Bay than you could the entire rest of the year anywhere else in the state.
Sandusky Bay is also sheltered, so you can be out on your boat on days when the rest of Lake Erie would be too dangerous.
While there is some shore fishing, a boat is your best bet. There is a public launch at 101 Shelby Street in Sandusky.
2. Delaware Lake
Why Is This Lake One Of The Best In The State For Crappie Fishing?
Delaware Lake has large populations of both black and white crappie. It was one of the first lakes in the state designated as a trophy crappie lake.
What's Unique About Delaware Lake?
Delaware Lake is an almost 1000 acre man-made lake located just north of Columbus Ohio in Delaware County. It has extensive shore fishing and multiple public boat launches.
Since it's considered a trophy crappie lake, it has a 9-inch slot limit on crappie.
Tips
Catching crappie in Delaware Lake is all about adjusting your location based on the season.
For early spring fishing, you want to be in the southern part of the lake. This part of the lake features a sloping shoreline and deep channels where the crappie like to school.
As the weather warms up and the crappie move to shallower water, you must as well. This means moving to the northern end of the lake, which features long, flat, shallow habitat.
3. Alum Creek Lake
Why Is This Lake One Of The Best In The State For Crappie Fishing?
Alum Creek Lake is known for its steep shoreline and fallen timber. This, along with its deep coves and long shallow bays, provide all the types of habitat that crappie like as the year progresses.
The lake supports large populations of both black and white crappie.
What's Unique About Alum Creek Lake?
Alum Creek Lake is another man-made lake in Delaware County. It's almost 3500 acres and has multiple boat launches. This lake has almost 70 miles of shoreline, a lot of which is shale bluffs.
Because of the steep nature of the areas with the best fishing, a boat is your best bet.
Tips
The best fishing is on the northern shore of the lake.
The northern shore of the lake is characterized by a steep shore and a lot of fallen timber. This provides the perfect cover for big crappie, particularly once the spawn is over.
The northern area of the lake also has long shallow bays which become prime crappie hotspots once the water warms up and they start to move to shallow water.
4. Indian Lake
Why Is This Lake One Of The Best In The State For Crappie Fishing?
While being nationally recognized for its saugeye fishing, Indian Lake is also a great destination for crappie.
It's recognized as one of the highest-ranked lakes in the state for large crappies, based on annual surveys done by the Ohio Division of Wildlife.
What's Unique About Indian Lake?
Indian Lake is 5,800 square acres and is located in Logan County. It has approximately 30 miles of shoreline and many islands.
Because this is an artificial lake made from an area that was a mix of lake, swamp, and creek, the current lake has a wide variation in depth and bottom type, with deep channels and shallow flats.
Tips
The best crappie fishing is along the brushy areas of the shorelines, both on the edges of the lakes and the islands. The water is generally shallow near the shore, so the crappie come here to spawn, then stay for the cover provided by the brush.
Only when the water temperature starts to approach 70 degrees do they move into the deeper channels.
Minnows and jig fishing around shoreline cover in the spring and fall are the best combinations for crappie in this lake.
5. Mosquito Creek Lake.
Why Is This Lake One Of The Best In The State For Crappie Fishing?
Despite its off-putting name, Mosquito Creek Lake is a great spot to spend a day crappie fishing.
Because this is a very shallow lake, an extremely high percentage of it is prime spawning habitat for crappie. This means that this lake has a consistently high crappie population, year in and year out.
What's Unique About Mosquito Creek Lake?
It's located inside Mosquito Lake State Park near Warren Ohio. It's also one of the biggest inland lakes in Ohio, at almost 8,000 acres.
The lake is divided almost in half by the Ohio Route 88 Causeway.
Tips
One of the best spots to fish is right around the causeway because it limits where crappie can travel back and forth between halves of the lake, concentrating them in a small area. Its like a natural pinpoint!
North of the causeway, virtually the entire area adjacent to the west shore is perfect crappie spawning flats to fish when the water starts to warm up.
NOTE: The far north of the lake is off-limits because it's a bird sanctuary.
South of the causeway there is a lot of great structure off both shores, with the eastern being a little more productive.
This lake is great for fishing from a boat or from the bank.
6. Grand Lake St. Marys
Why Is This Lake One Of The Best In The State For Crappie Fishing?
In common with many others on this list, Grand Lake St. Marys has a perfect variety of crappie habitats. It's mostly shallow, so it provides great hatchery areas. It also has a mixture of deep channels, rocky edges, and brushy shorelines.
It regularly ranks near the top in the state for both overall crappie catch numbers, as well as quality-sized fish.
What's Unique About Grand Lake St. Marys?
This is an almost 13,000 square acre lake, with an average depth of under seven feet. It's located in southwestern Ohio and has seven boat launches available to the public.
It's so good, that many national crappie fishing tournaments have been held here.
Tips
Grand Lake St. Marys is particularly good for fishing from shore. The state has installed stake beds near several shore fishing areas.
These are groupings of between 50 and 300 stakes placed within easy casting distance from the shore or a pier.
7. Piedmont Lake
Why Is This Lake One Of The Best In The State For Crappie Fishing?
Surveys have shown that Piedmont lake has one of the highest populations of large crappie in the state. The dominant species here is white crappie, but you may catch an occasional black one.
What's Unique About Grand Lake St. Marys?
This is another large man-made lake, covering over 2,000 acres. It has an abundance of shallow bays and brushy shores that crappie love, so there is a steadily growing population that suffers very little yearly fluctuation.
Biologists have found that crappie grows unusually fast in this lake, which is a testament to its water quality, cover, and forage base.
Due to its 10 hp boat motor limitation, it's also a quiet lake and ideal for canoe or kayak anglers.
Tips
The shallow bays and coves provide great spring fishing. The upper end of the lake tends to be shallower overall, so this is the place to be in the spring.
When the weather starts to get warmer, the brushy banks are the place to find big crappie.
While this lake has naturally brushy banks, people have also dropped trees in the lake in many locations, just to create more crappie cover.
You May Also Like: The Best Crappie Baits To Catch Slabs All Year Long
If you haven't guessed yet, I love fishing and everything about it!
To learn more about why I started Panfish Nation, visit the About page and follow along on Social Media: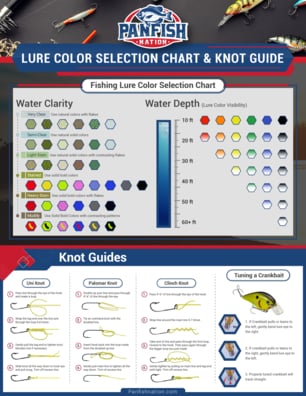 Download a copy of my FREE Lure Color Selection Chart & Knot Guide!
Stay up to date with fishing reports, tackle reviews, industry news, and much more! We respect your privacy, unsubscribe at any time.
Related Posts